Since 1995 nearly all of my professional work has been enabled by, and published on, the web. This page collects pointers to writing, software, audio, and video.
The present era
I'm working for Hypothesis on an open annotation layer for the web. My posts on the Hypothesis blog are here.
The Microsoft era (2007-2014)
In Jan 2007 I joined Microsoft as an evangelist. During that era I produced interviews and podcasts, advocated for the Open Data Protocol, and created the Elm City calendar network.
The InfoWorld era (2002-2006)
In 2002 I joined InfoWorld on a mission to explore and extend the blog medium. During this era I expanded my repertoire to include audio (podcasting) and video (screencasting), documenting my progress on my InfoWorld blog and my Prime-Time Hypermedia series at the Oreilly Network.
The freelance era (1998-2002)
When CMP bought and killed BYTE, I went independent. I wrote Practical Internet Groupware, worked as a consultant on a variety of web projects (including Safari books online), and freelanced for a variety of print and online publications. Toward the end of this era, blogging emerged and became my primary literary form.
The BYTE era (1995-1998)
I started at BYTE in 1988. During the pre-Web years, I wrote reviews and features for the magazine. In 1995 I switched into Web mode, created BYTE.com, and documented my progress in print and online.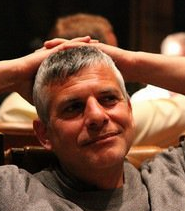 jon at jonudell dot info
judell at hypothes.is
Talks>
NMC Summer Conference, June 13-15 2017, Boston MA
Domains, June 5-6 2017, Norman, OK
Public Library of Science, Feb 2015, San Francisco, CA
Hampshire College Board of Trustees, Feb 2014, Amherst, MA
Yahoo! Lecture Series, Univ. of Michigan School of Information, Jan 2013, Ann Arbor, MI
Workshop on community calendar syndication, Sep 2012, Ann Arbor, MI
Municipal Management Association of New Hampshire, Jun 2012, Keene, NH
Virginia Tech: Innovator in Residence, Apr 2012, Blacksburg, VA
Foo Camp, Jun 2011, Sebastopol, CA
New England Conference of Public Utilities Commisioners, Jun 2011, Bretton Woods, NH
J. Boye Conference, May 2011, Philadelphia, PA
Cities Centre, University of Toronto, Jan 2011, Toronto, ON
Berkman Center, Dec 2010, Cambridge, MA
Traction Users Group, Oct 2010, Newport, RI
Marlboro College Graduate School, Oct 2010, Brattleboro, VT
Kynetx Impact, Apr 2010, Salt Lake City, UT
CityCamp Chicago, Jan 2010, Chicago, IL
Science 2.0, Jul 2009, Toronto, Canada
Activate 2009, Jul 2009, London, UK
Open CourseWare Consortium, Apr 2009, Monterrey, Mexico
University Continuing Education Association, Apr 2009, Boston, Massachusetts
World Usability Day, Nov 2008, Putney, VT
Code4Lib, Feb 2008, Portland, OR
CUSEC, Jan 2008, Montreal, Quebec
Cities of Knowledge, Nov 2007, Dublin, Ireland
Technology-enabled Business Transformation, Nov 2007, Wharton School, Philadelphia, PA
Global Research Library 2020, Oct 2007, Woodinville, WA
EDUCAUSE, Aug 2007, Snowmass, CO
UC Berkeley Service Science, Management, and Engineering Lecture Series, May 2007, Berkeley, CA
GOVIS, May 2007, Wellington NZ